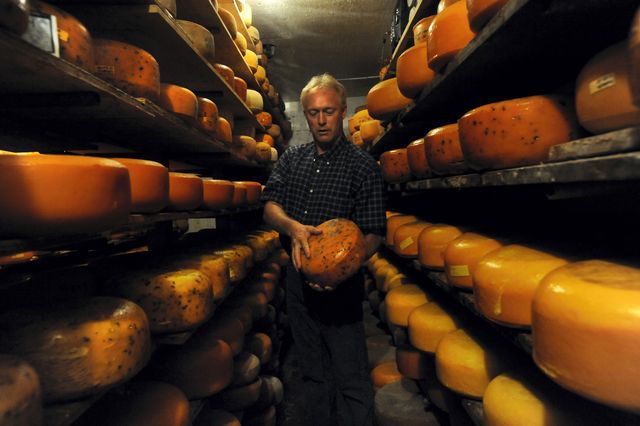 Being a farmstead operation means plenty of work to do every day. A typical morning on the Veldhuizen Family Farm begins around 5:30am with milking. Much of the day is then spent hand-crafting cheese in the cheese room, and in "The Cave" where cheese is aged for up to three years. The cheese is turned, coated, and washed throughout the aging process to bring out the complexity of flavors. We manage our farm store and take time to visit with our customers and neighbors as they stop by to make their purchases. The fields and cows require daily attention, fresh eggs need to be collected, and there's often equipment to repair. Finally, there's the evening milking before the day is through.
Growing up on a dairy farm in Minnesota equipped Stuart with the knowledge and love for the land and cows. A dissatisfaction with the current trends in commercial dairying caused Stuart to ask what could be done with a small family-run dairy.
In January of 2000, we, along with our seven children, embarked on our cheese making journey. It was a dream of ours that, with hard work and persistence, became a reality. Starting with small beginnings, our operation began with twenty baby calves, which we raised to milking age. We started with one variety of cheese and have continued to grow―and are currently offering over 15 varieties of artisan raw milk cheeses.

LOCATION
Dublin, TX
180
Conventional
Field Grown
Cheese - Artisan
"Our goal is sustainability, and so we grow as much of our own feed as possible. We plant a variety of crops which provides our cows a great "salad bar", suited to their needs, depending on the season."