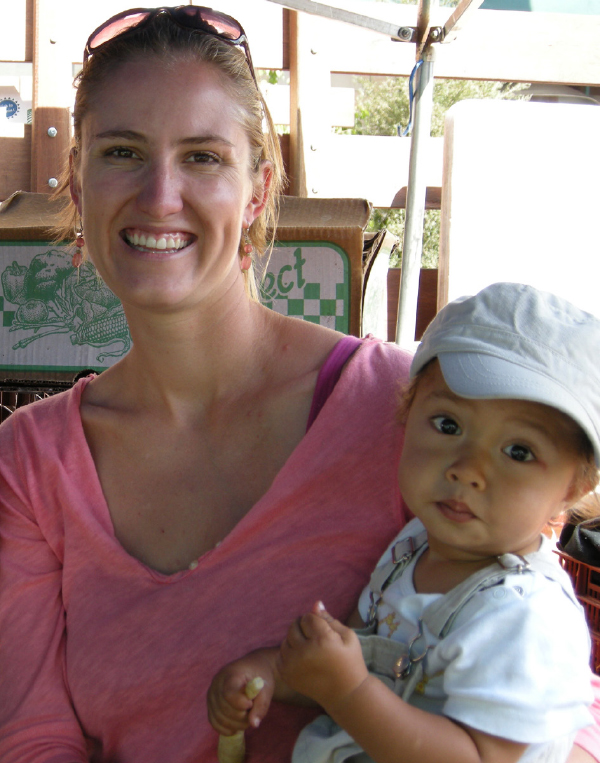 Chris Cadwell's farming heritage goes way back through eight generations of Cadwells. His great-great grandfather, Oren Cadwell, introduced avocado trees to Ventura County, and his parents grew garlic in Carpinteria.
Chris farmed his parents' land in Carpinteria until 15 years ago when he purchased 100 acres in Lompoc, and moved his family up the coast. Today, 50 acres of this land is tillable and in production. The Cadwell home, buildings and an oak preserve occupy the other half of the property.
While we are huge fans of Tutti Frutti Carrots (Orange, Sugar Crisp Yellow, Sunrise Red, Black Knight Purple) and Musque de Provence Pumpkins, the bulk of the land they own and additional leased land is planted in heirloom and cherry-sized tomatoes. The Cadwells grow seasonal items year-round, but once the tomato harvest begins this family farm jumps into high gear.
Chris's daughter Clara (shown above with her son Sebastian) sells the fruits of the Caldwell family labor at farmers markets, and Sebastian may be poised to become the newest Farmer Cadwell, carrying on the family's farming tradition that embraces responsibility, sustainability, and vegetables with outstanding flavor.

LOCATION
Lompoc, CA
50
Artichokes, Beans - Fava, Beets, Broccoli, Carrots, Celery, Cucumbers, Fennel, Onions, Peas - English, Peas - Snow, Potatoes, Spinach, Squash - Summer, Squash - Winter, Tomatoes - Cherry, Tomatoes - Heirloom
"The Produce Hunter curates the farmers markets, and works with small, local family farmers committed to sustainable agriculture, responsible production, and propagation and promotion of fruit and vegetables with exceptional flavor."