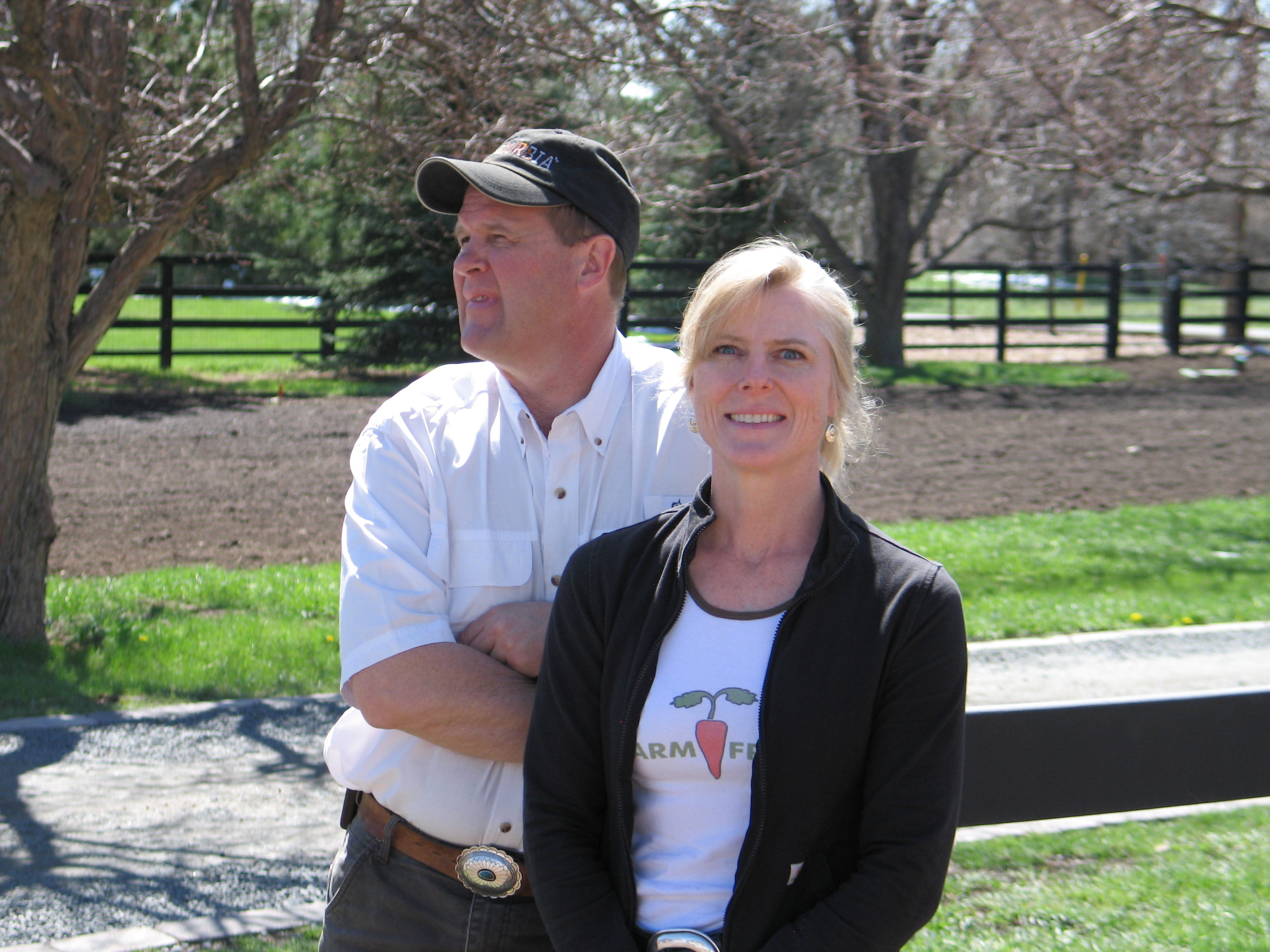 Table Mountain Farms is run and operated by Quint and Jenny Redmond as a new model for local food farming, distribution and sales. Our central farm is located in Golden, Colorado, with additional farms around the Denver Metro Area. All of the food sold from Table Mountain Farms is grown locally on Agriburbia™ farms that are constructed and maintained by professional farmers.
Table Mountain Farms is a model property that exemplifies the principles of Agriburbia™ and explores the possibilities of fully sustainable living in the modern age. We follow an "all-natural" practice that overlaps in many ways with organic practices. Table Mountain Farm's solar power and drip irrigation is used to efficiently and effectively water the crops, using much less water than a traditional landscape. All of the farm operations utilize minimally mechanized principles and biointensive layouts for efficient labor and production. Only natural/organic pest and weed controls are used on the farm - plants such as marigolds and zinnias act as natural pesticides, and good old fashioned shovels, trowels, and pitch forks keep the weeds away. We believe that knowing your farmer will always outweigh any information you get from a label. Please stop by the farm to see for yourself where the amazing produce we deliver is grown!

LOCATION
Golden, CO
5000
Conventional
Field Grown
Arugula, Beets - Candystripe Chiogga, Beets - Gold, Cabbage - Napa, Cabbagge - Pak Choi, Carrots - Mixed Colored Carrots, Chard - Rainbow, Cucumbers - Pickling, Flowers - Edible Borage Blossoms, Herb - Cilantro, Herbs - Basil, Herbs - Basil Purple, Herbs - Chives, Herbs - Cilantro, Herbs - Dill, Herbs - Oregano, Herbs -Parsley Italian, Kale - Toscano, Lettuce - Spring Mix, Micro Greens - Bulls Blood Beets, Peppers, Peppers - Chiles Jalapeno, Peppers - Chiles Jalapenos, Peppers - Chiles Poblanos, Peppers - Mini, Peppers - Mini Sweet, Radish - Easter Egg, Spinach, Squash - Zucchini Striped, Tomatoes, Tomatoes - Cherry Black
"We buy local to strengthen regional economies, support family farms, preserve the local landscape, and provide delicious fresh-from-the-farm foods for our customers."