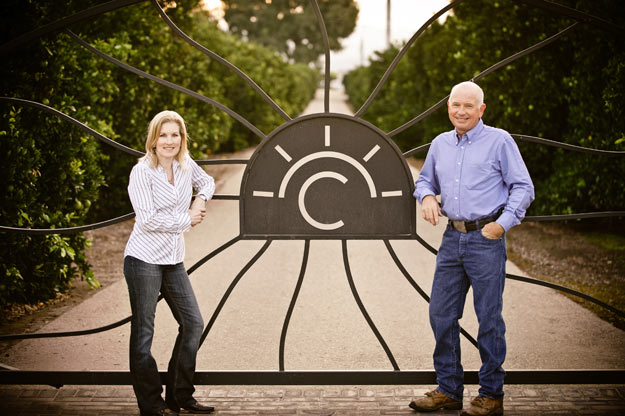 In 1988 Eric and Kim Christensen purchased a home with an orange grove. Once they moved in, they wondered if they could pack and sell their citrus fruit without going through a large commercial packing house. This would give the Christensens the flexibility to provide unusual citrus, harvested at the peak of flavor, to chefs and the public. The secret would be to harvest, pack, and deliver to the customer in a timely manner so the customers could enjoy citrus at its best, just off the tree.
From this idea, Rising C Ranch was created; a small family farm that allowed Eric and Kim to harvest the fruit when it was at its best and to pack just enough to meet customer's orders.
Over time, the Christensens purchased more acreage with different varieties, retooled a larger packing facility to meet their needs, and planted additional acreage with unusual varieties. Today, the couple owns and farms more than 130 acres of specialty citrus that includes 14 different varieties of mandarins, 11 varieties of oranges, 6 varieties of limes, 5 varieties of lemons and grapefruit.
From Bergamot to Yuzu, the Christensen's citrus is produced using sustainable methods, harvested only when the color and sugar is right, and as a result, consistently has the best flavor we've found!

LOCATION
Orosi, CA
130
Field Grown
Sustainable
Citrus, Grapes, Pomegranates
"The Produce Hunter curates the farmers markets, and works with small, local family farmers committed to sustainable agriculture, responsible production, and propagation and promotion of fruit and vegetables with exceptional flavor."