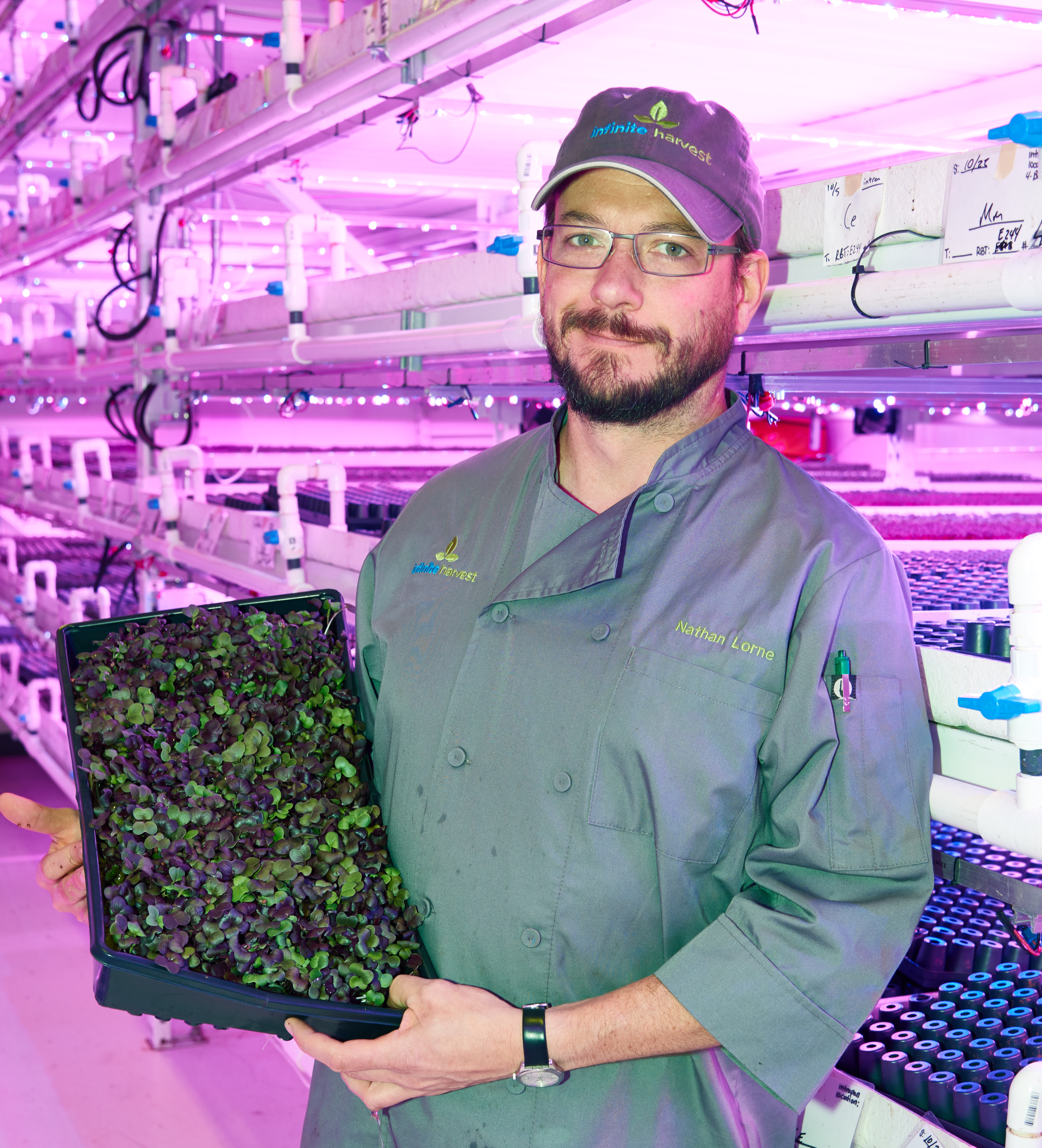 Although Infinite Harvest is a relative newcomer to the centuries old community of agriculture in Colorado, their state-of-the-art growing techniques have been in development for several years. In 2012, the City of Golden afforded Infinite Harvest a small parcel of land to erect a solar and wind powered containerized hydroponic system to grow produce without concern for availability of power, traditional water usage, or the vast swings in Colorado's seasonal weather. They operated this small research "farm" for a year, growing arugula and three lettuce varietals. During this time, many of the system designs and operating parameters for their current commercial "Vertical Farm" were developed.
Over the summer of 2014, Infinite Harvest moved into its current location in Lakewood, Colorado and began building the current facility that has been in commercial operation since January of 2016. They currently grow leafy greens and microgreens in a vertically stacked hydroponic system up to eight tiers high. The technology they employ in their controlled environment affords them the ability to tailor every input their plants receive, from lighting to mineral nutrients. They do not use any pesticides or herbicides and use only non-GMO inputs, as there simply is no need for these commonly used agricultural products in their system. As for water conservation, they utilize the same amount of water as the average four-person household, and can have over 50,000 heads of lettuce growing at any given time throughout the year.
Infinite Harvest believes strongly in supporting their local community, from employing a permanent year-round local workforce to providing fresh produce for local school lunch programs. As the future of farming continues to develop, they aim to be at the forefront providing local, consistent, and sustainable foods.

LOCATION
Lakewood, CO
38000
Greenhouse/Hoop
Hydroponic
Sustainable
Lettuce - Baby, Lettuce - Bibb, Lettuce - Butter Head (Boston), Lettuce - Romaine, Micro Greens
"Simply put, it's fresh, local produce -- every day of the year from Lakewood, Colorado."