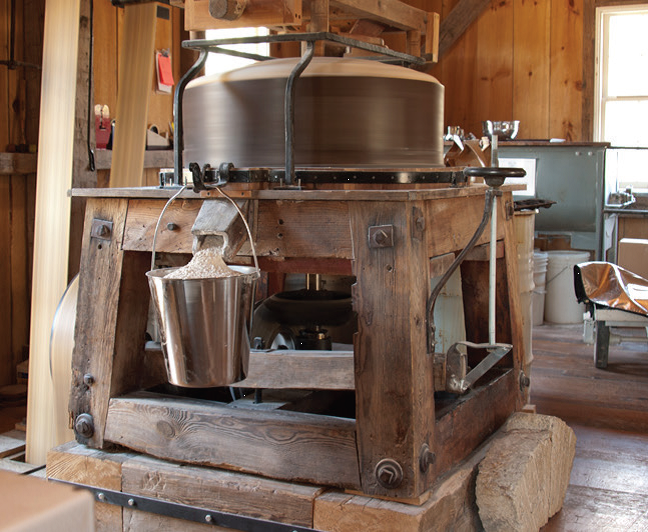 The first known written record of the Homestead Gristmill along the Hollow Brook or Mill Creek in Hunterdon County, New Jersey, is when a German immigrant named Asher Mott decided to sell his share of the family property to his older brothers, John and Gershom, in 1768. The property stayed in the family until 1800 when Robert Emley purchased the mill and 30 acres for $213.30.
In 1908, following several ownerships, Philip Sliker purchased the mill and began to process flour under the brand name of "Teetertown Buckwheat Flour." But in 1918, after ten years of operation, Mr. Sliker retired and closed the mill.
After it last ground grain in 1918, the Teeter mill went through a series of owners, most looking for a quaint country getaway from the bustle of New York City. Left neglected for decades, by the turn of the twenty-first century, the aged mill was in need of either demolition or restoration.
In 2001, the craftsmen of Homestead Heritage carefully documented and dismantled the mill and restored it in a new location in Central Texas. Given a new life as Homestead Gristmill, the mill is open to the public, grinding fresh whole wheat flour and cornmeal. In addition to three types of wheat and corn, they also grind oats, rye, spelt, rice, buckwheat and soybeans. Homestead Gristmill uses the single-step process of grinding with natural granite stones which preserves the nutritional value of the grain. All the grains used are grown without chemical pesticides and fertilizers.

LOCATION
Waco, TX
30
Conventional
Field Grown
Grains, Wheat
"Two big stones turn to grind the grain. If the stones touch, that's the end of the mill. A fire could start. That's where they got the saying, 'keep your nose to the grind stone'."