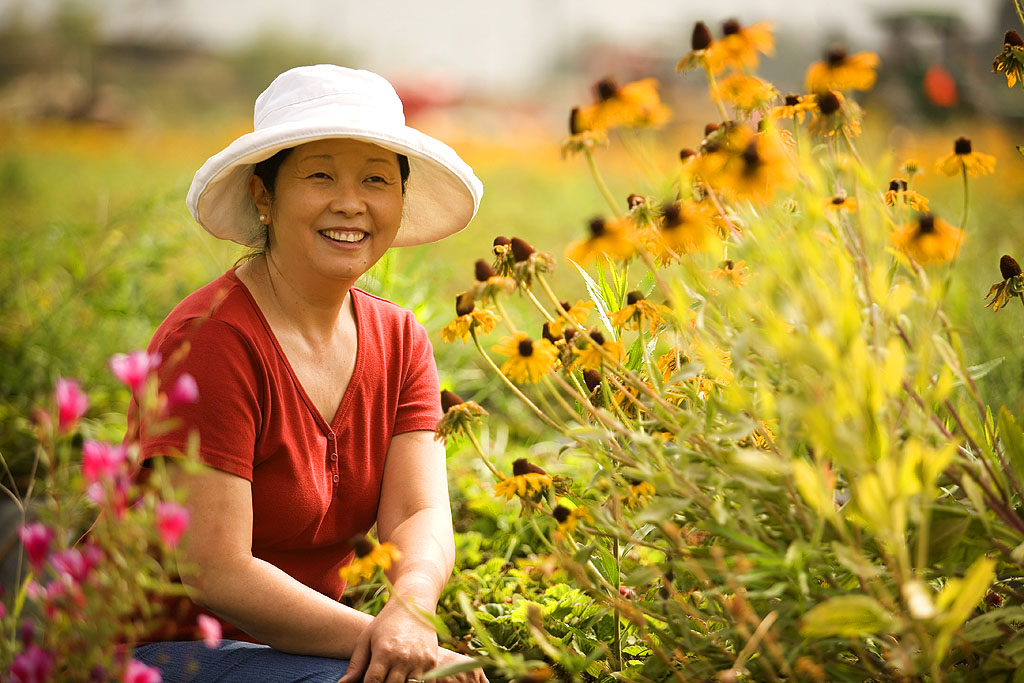 Harry Iwamoto farmed ancestral land in Japan until he emigrated to the U.S. in the late 1950s, and worked for 10 years as a landscape gardener in Southern California. In the late 1960s, Iwamoto leased 11 acres of land in Southern California and began to farm strawberries. Today, Harry's daughter, Molly, and her husband, Rick Gean, continue the family farming tradition. They no longer lease land, and farm on 40 acres of beautiful farmland they own in Oxnard, California, and three generations of the Gean family live and work on the farm. The name of the farm and the brand of their Strawberries, Harry's Berries, honors Molly's father, who died in 1993.
Ten years ago, the Harry's Berries stopped selling to distributors and wholesalers, and embraced direct marketing at farmers markets throughout California. Today, the family sells their strawberries, beans, tomatoes, and bushberries at 46 California certified farmers markets. Because their fruit does not need to hold up through traditional distribution channels, strawberries, bushberries, and tomatoes are harvested when fully ripe, the day before each farmers market. All of Harry's Berries fruits and vegetables have a well-deserved reputation for outstanding flavor, but it's not just because they are harvested when perfectly ripe; great soil and production practices play a key role.
Harry's Berries is not certified organic, but Rick Gean's production practices—well beyond organic standards—have resulted in exceptional soil which yields exceptional product. Although Rick married into the Iwamoto family, he took to farming like a duck to water and is responsible for the day to day operation of the farm. He composts on the farm, and uses the worm casings to make a "tea" which they use as their fertilizer. The land's micro climate is perfectly suited to each crop, so minimal irrigation is used, and the sugars in the fruit and vegetables are concentrated. Every plot on the farm is cover cropped in alfalfa for three months every year; the alfalfa is plowed back into the soil at the end of its three month growing period. When each field is ready to go to cover cropping, Rick pulls out the irrigation tape and ties it into trellises for the tomatoes. These practices illustrate the family's commitment to sustainable production.

LOCATION
Oxnard, CA
Beans - Bluelake, Beans - French, Beans - Yellow Romano, Berries - Blackberries, Berries - Raspberries, Berries - Strawberries, Tomatoes - Beefsteak, Tomatoes - Cherry Juliet, Tomatoes - Cherry Sun Gold, Tomatoes - Cherry Sweetheart
"The Produce Hunter curates the farmers markets, and works with small, local family farmers committed to sustainable agriculture, responsible production, and propagation and promotion of fruit and vegetables with exceptional flavor."