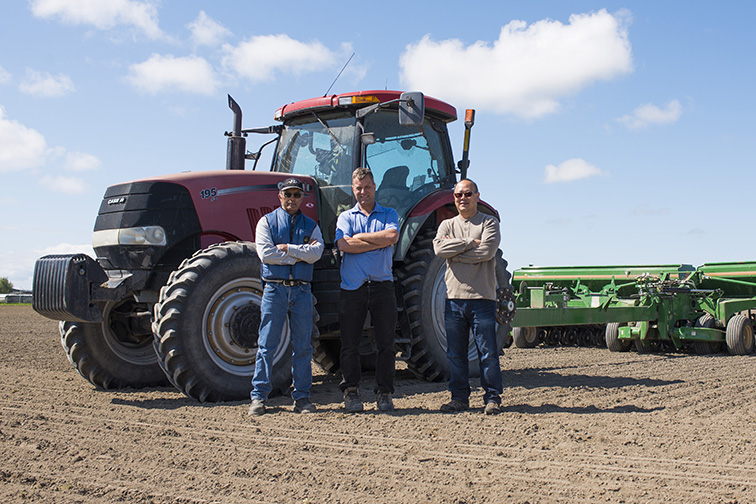 Fraserland Organics is cooperative of three certified organic family farms. The trio includes Brent Harris of Fraserland Farms, Danny Chong of Bow Chong Farms and Ab Singh of Dhaliwal Farms. After the success of their first organic corn crop, childhood friends, Brent and Danny, came together to grow organic potatoes in 1995. Fraserland had the tractor power, and Bow Chong had the grading facilities. But it was their belief in the strength and passion of the family farm that was the driving force behind their union. As market opportunities for organic vegetables increased over time, they transitioned more land into organic production. In 1999, Ab joined the group and together, they formed Fraserland Organics Inc. Their cooperative approach to sell organic produce under one label became a huge success.
Fraserland Organics focuses on great tasting organic potatoes. A wide variety of potatoes are grown on the farms. Baby white potatoes start in June; with red, yellow flesh, purple, russet and nugget potatoes following soon after.
Fraserland Organics is proud to be a part of the ugly vegetable movement. To comply with Canada No. 1 Grade standards, potatoes are graded out due to appearance. About 25% of potatoes with minor skin defects, odd shapes or sizes don't make the cut. The idea of wasting great tasting nutritious crop didn't seem sustainable, so they started packaging 5 lb bags of "Pugly Potatoes," which are certified organic Canada No. 2 Grade potatoes. Why waste great taste?
Fraserland Organics is also actively involved with Delta Farmland and Wildlife Trust and its programs to help conserve agricultural and wildlife resources. Hedgerows, trees and shrubs are planted on the farm to provide year round habitats and nesting sites for birds, mammals and insects. After the harvest, winter cover crops are planted as a food source for snow geese and other fowl.

LOCATION
Delta, BC
1800
Field Grown
Organic
Beans - Green, Potato - Purple, Potato - Yukon, Potatoes, Potatoes - Russet
"We strive to grow amazing produce, while at the same time, building soils that can carry on the tradition for generations to come."