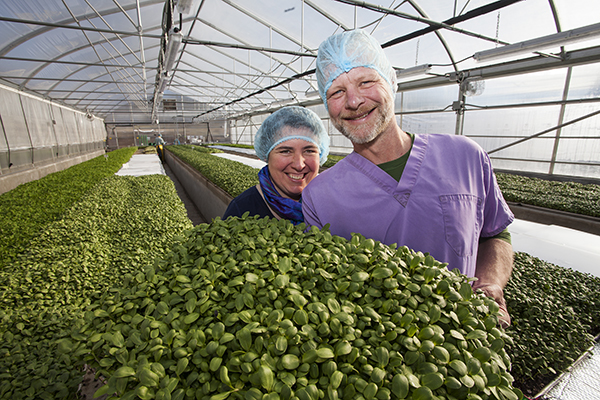 When Carmen Wakeling began working at Eatmore Sprouts and Greens Ltd. in 1985, she had no idea she would become the co-owner one day. Eatmore originally began as a venture of family friends with a passion for food production, but it was Carmen along with her co-owner and husband, Glenn, who grew the business into the success it is today.
Carmen and Glenn acquired Eatmore in 1989 and moved it to their tiny backyard in Oyster River for a few years. In 1993, they entered a partnership with another couple to grow the company and relocated to their current location in the Comox Valley on Vancouver Island. The business quickly grew from there. In 2009, Carmen and Glenn officially bought out their business partners.
Eatmore Sprouts has been certified organic since the early 1990's. Their sprouts and greens are grown in an indoor facility and greenhouses, which allows their products to be available 365 days a year. They also have a small organic market garden, which provides their local farmers market and nearby restaurants with fresh seasonal vegetables, such as kale, cabbage, broccoli, leeks, beets, and edible flowers. Also grown are perennial herbs such as lavender, rosemary, thyme, chives, oregano and annual herbs, such as basil.Today, Eatmore Sprouts grows 9,000 pounds of certified organic sprouts and greens a week. Their products are distributed all throughout Western Canada.

LOCATION
Courtenay, BC
Greenhouse/Hoop
Organic
Beet, Broccoli, Cabbage, Flowers - Edible, Herbs, Kale, Leeks, Micro Greens, Micro Pea Shoots, Sprouts, Sprouts - Sunflower
"We buy local to strengthen regional economies, support family farms, preserve the local landscape, and provide delicious fresh-from-the-farm foods for our customers."