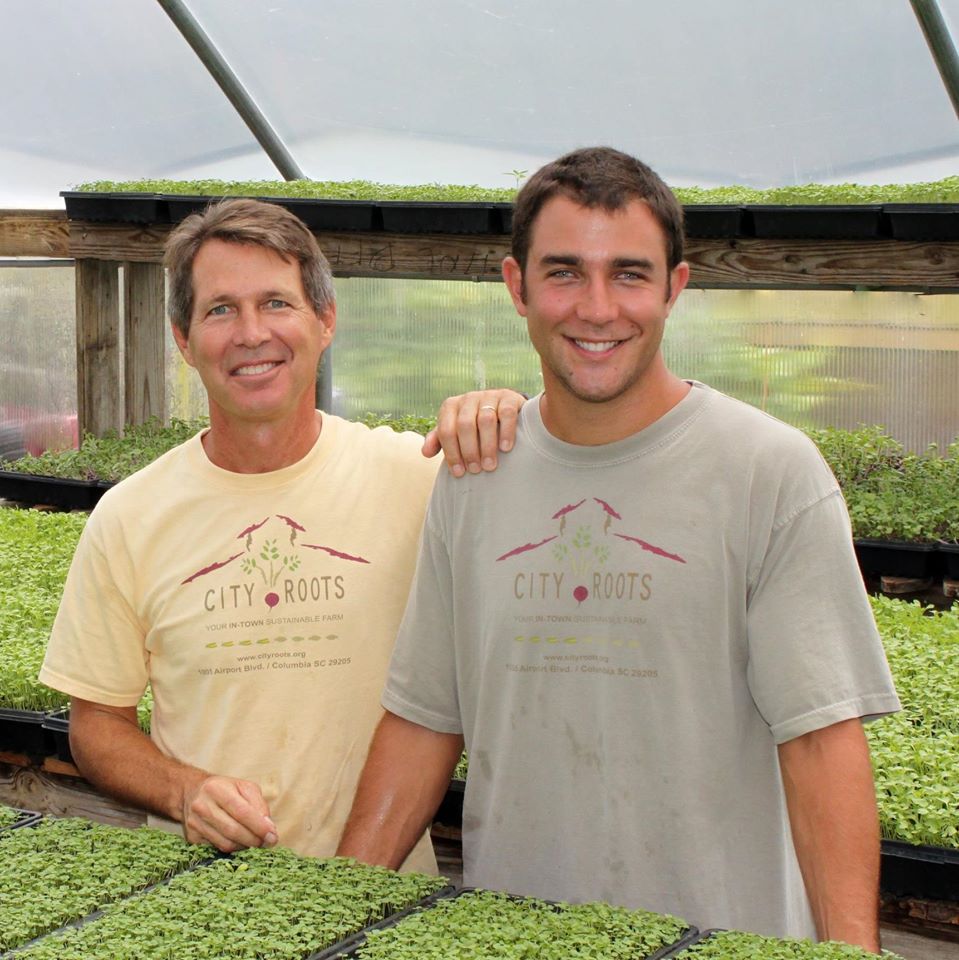 City Roots is a family owned father and son operation. Both Robbie and Eric's first careers were as Architects, but found themselves with a desire to get back to the land. City Roots was founded in 2009 in Columbia, SC. City Roots, South Carolina's first urban sustainable farm, is located on a three acre urban site in down town Columbia.
Organically Certified by USDA, we grow over a hundred varieties of fruits and vegetables, keep bees not only for honey but for pollination, raise chickens not only for eggs but for the fertility they add to our soil. We do extensive crop rotations and cover cropping for soil fertility and pest management. We have a large scale composting operation which we use to amend our soil and by doing so have diverted hundreds of tons of material destined for the land fill into rich, fertile soil. We create worm casting and worm tea via vermicomposting to use as a fertilizer. We produce microgreens year round and operate an aquaponic system which is the combination of aquaculture, the production of commercial fish (tilapia), and hydroponics, the growing of plants in a water medium, that mimics a stream and pond ecosystem. We are currently transitioning our farms into No-Till vegetable production through a Conservation Innovation grants from the USDA.
City Roots conducts numerous agritourism activities including on farm tours, farm to table dinners, and venue rentals. We also operate two satellite farms. One is a five acre farm located ten minutes away at a nearby high school. The other is a 20 acre farm located in Lake City, South Carolina. We operate all of our farm in a holistic fashion with each part playing an integral role in the overall system.

LOCATION
Columbia, SC
Field Grown
Hydroponic
Organic
Asparagus, Berries - Blackberries, Berries - Blueberries, Figs, Fruits - Assorted, Grapes - Muscadine, Micro Greens, Vegetables - Assorted
"We buy local to strengthen regional economies, support family farms, preserve the local landscape, and provide delicious fresh-from-the-farm foods for our customers."