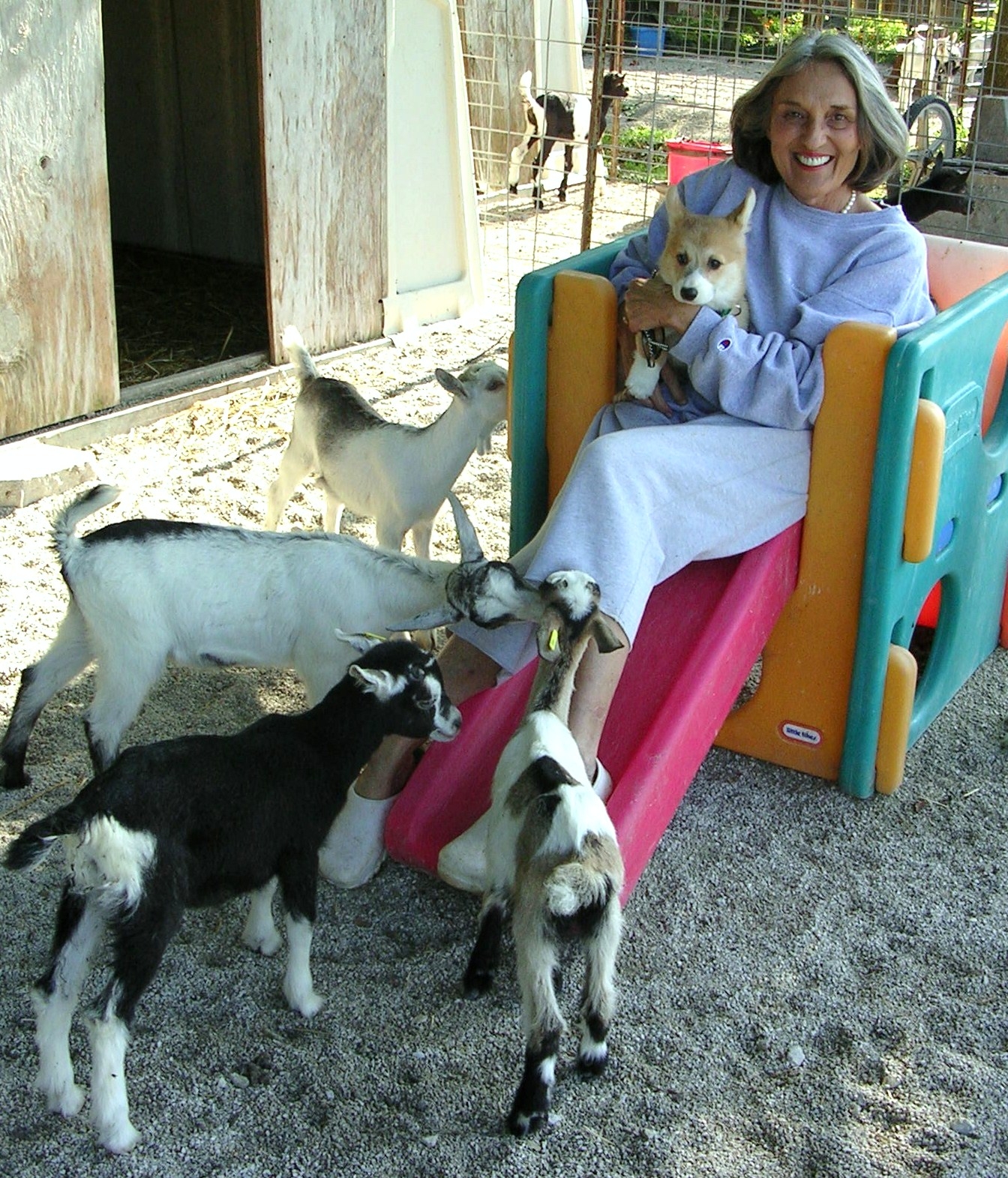 In 1976, in search of a more bucolic life, Judy Schad, her husband Larry, and their three children moved from the Louisville area to the Indiana countryside. They purchased an 80 acre farm in Greenville, Indiana, and Judy thought it might be fun to have a goat or two. Soon, the Schads were traveling the country showing purebred Alpine goats.
While showing goats, Judy met Mary Keehn, and the women became fast friends. Driven by their desire to find a use for the milk produced by their herds, the friends read a book titled Cheesemaking Made Easy. From this inauspicious start two trailblazing cheesemakers were born: Judy Schad's Capriole Farm and Mary Keehn's Cypress Grove.
The Schad's Capriole Farm based their operation on health and longevity of their herd with goats who are born, live, and die on the farm. Judy and Larry raise much of their own hay and browse the goats in rotating woodland paddocks. The result is happy goats who give truly magnificent milk, and Capriole Farm cheeses quickly gained respect and awards for exceptional quality. With a great foundation, a trip to France was a turning point for Capriole Farm's cheese. Judging goat cheese in France, Judy tasted myriad cheeses and noticed the French cheeses all tasted better than her own cheeses but she didn't know why.
The milk from Capriole Farms goats was magnificent. What was the difference? After the competition, Judy visited several producers and discovered that French cheesemakers did not use Pennicillium to ripen their bloomy rind cheeses; they used a mold unfamiliar to American cheesemakers: Geotrichum candidum.
Determined to replace Pennicillium with Geotrichum in her cheese making process, Judy returned to Indiana and contacted Mother Noella Marcellino, a Benedictine nun who studied the use of Geotrichum in French cheeses. Also known as the Cheese Nun, Mother Noella's doctoral thesis in microbiology, her Fulbright scholarship, and her fellowship from the French government all focused on Geotrichum molds in French cheeses. At Judy's request, Mother Noella traveled to Capriole Farm where she taught Judy how to gather Geotrichum from her environment and use it to ripen her cheeses, forever changing Capriole cheeses.
In his most recent book Cheese: A Connoisseur's Guide to the World's Best, cheese expert Max MacCalman called Judy "a shining light of the cheese world" and noted that Capriole Farm cheeses are as good as the best French goat cheeses.
To this day, all Capriole Farms bloomy rind cheeses are ripened with Geotrichum and all the aged cheeses are made with raw milk. Like Max MacCalman, you will taste the difference!

LOCATION
Greenville, IN
80
Cheese - Chantal Aperitif, Cheese - Chevre, Cheese - Crocodile Tears, Cheese - Juliana, Cheese - Mont St. Francis, Cheese - Old Kentucky Tomme, Cheese - Piper Pyramides, Cheese - Sofia
"The Produce Hunter curates the farmers markets, and works with small, local family farmers committed to sustainable agriculture, responsible production, and propagation and promotion of fruit and vegetables with exceptional flavor."