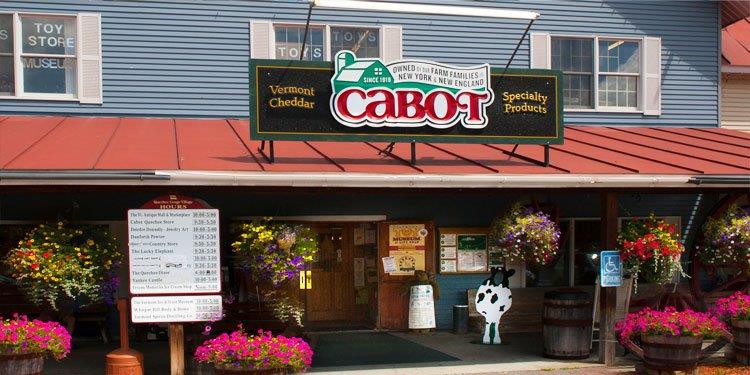 Cabot Creamery is a cooperative owned by 1,200 dairy farm families throughout New York and New England. They manage four processing plants in three states, employing over 1,000 people, 1,200 farm families, and making some of the best dairy products in the country. They make their award-winning cheeses with love and pride in Cabot and Middlebury, VT and Chateaugay, NY and the best premium butter produced in West Springfield, MA. In Cabot, VT they're also making light cheddars, flavored cheddars and rich Greek-style yogurt, cottage cheese, and sour cream.
The Cabot story reaches back to the beginning of the 20th century, when the cost of farming was low and most farmers produced far more milk than they could market. In 1919, ninety-four farmers from the Cabot area figured that if they joined forces, they could turn their excess milk into butter and market it throughout New England. In 1930, at a time when cows outnumbered people in Vermont, the company hired its first cheese-maker and cheddar cheese entered the product line for the first time.
In 1989, Cabot took first place in the cheddar category at the US Championship Cheese Contest held in Green Bay, Wisconsin, and continues to win competitions across the country today. The company blends state-of-the-art facilities and a savvy entrepreneurial spirit with a timeless personal commitment to quality that comes from being 100% owned by their farm families.

LOCATION
Waitsfield, VT
Conventional
Field Grown
Butter, Cheese, Dairy - Yogurt
"We buy local to strengthen regional economies, support family farms, preserve the local landscape, and provide delicious fresh-from-the-farm foods for our customers."