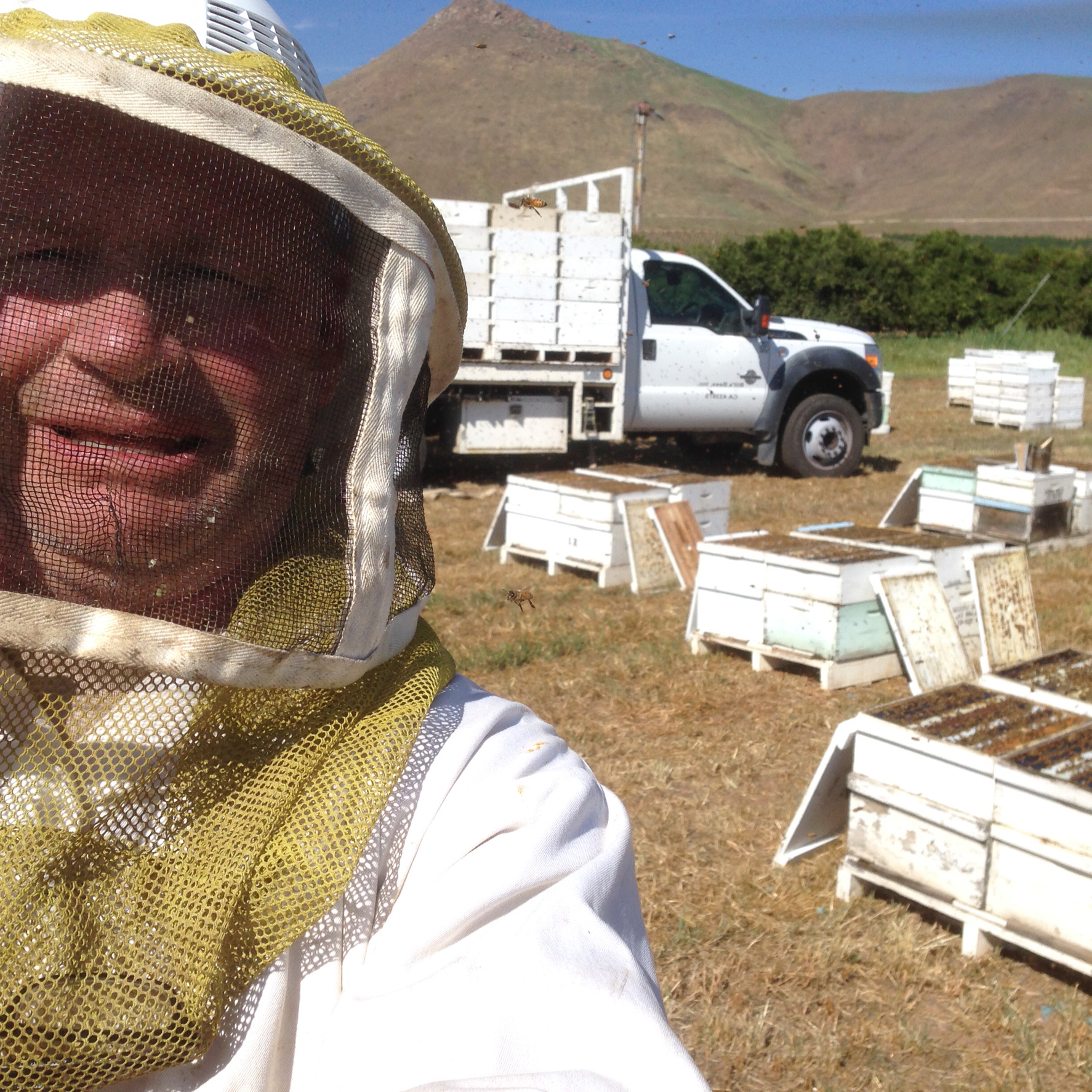 Twenty years ago, Bill Lewis walked away from a career as an aerospace engineer to become a beekeeper (formally, apiarist). Bill's first brush with bees was when he was 14 years old, working on a merit badge for the Boy Scouts in Wisconsin.
Today, Bill manages nearly 400 bee colonies in the Angeles National Forest, a rural oasis high above the city. There, the bees produce honey from native Black Button sage and buckwheat. During the almond bloom in February, Bill moves his bees to almond orchards to help with almond pollination, and is able to harvest limited amounts of almond honey. In April, Bill moves his bees to the orange tree orchards in California's citrus belt, and harvests large quantities of Orange Blossom honey. This year, Bill will try moving his bees to help pollinate local blueberries, and he is hoping his bees will produce enough blueberry honey to harvest for sale.
Commercial honey is heated to extremely high temperatures so it won't crystallize when sitting on the store shelf for long periods of time. The process destroys the elements that make raw honey so good for us, and negatively affects the flavor. Bill's honey is never heated or filtered. It's full of live enzymes and tiny grains of pollen that the bees naturally put in the honey.
Honey varieties take on a different color and flavor depending on which flowers the bees are attracted to. Commercial producers mix all their honeys together, so the commercial honeys taste the same because the distinctive flavors of each variety are lost in the mix. Bill's honeys are always single varieties, so the unique character of each honey is featured.
Commercial beekeepers feed sugar-water to their bees during the winter when flowers are not blooming, and then they harvest and sell the honey produced from sugar-water. Honey produced from sugar-water does not taste nearly as good as honey produced from flower nectar. In contrast, Bill feeds the #2 grade honey to his bees during the winter so they have better feed, and he does not harvest the resulting honey for sale. Bill harvests only honey produced when the bees have plenty of flowers available to them. As a result, Bill's honey always has outstanding flavor and his bees are very healthy.

LOCATION
Lake View Terrace, CA
Sustainable
Honey
"Bill Lewis is an apiarist of the highest order, and his honey reflects his care and high standards. You will taste the difference!"