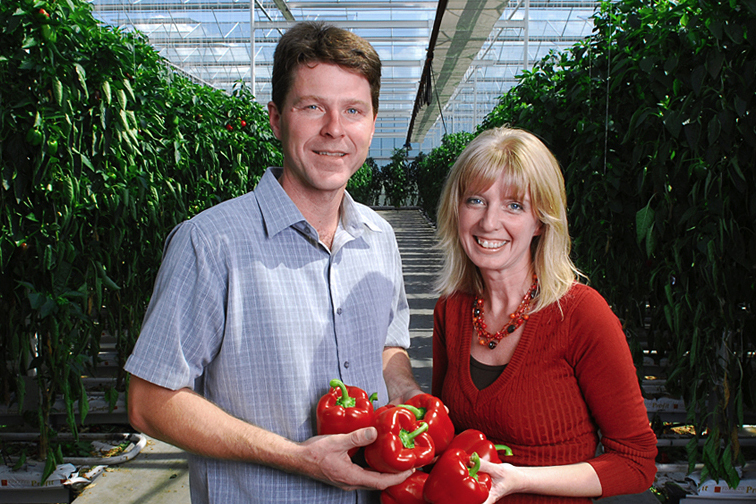 Bakerview Greenhouses is a family-run business owned by Armand Vander Meulen. His parents started the business by growing greenhouse tomatoes when they first emigrated from Holland to Canada. When Armand built Bakerview Greenhouses in 2012, he decided to grow bell peppers.
Located in Abbotsford, BC, the weather is slightly warmer than Metro Vancouver. Luckily, bell peppers are more heat tolerant than tomatoes. Bakerview Greenhouses provide the perfect growing environment for their bell peppers. Not only do they protect plants in inside structures, they also act as a barrier from cold, wind, rain, and snow. There are also a number of controlled environmental factors such as temperature, pests and humidity.
To control the temperature, hot water boilers are used throughout all four seasons. This allows them to grow for an extended season (February to November) unlike a regular outdoor crop field. Bakerview Greenhouses are also glass, the traditional choice, which allows the greatest amount of sunlight through to the plants. They also have a lower maintenance cost because it doesn't have to be replaced like plastic, making it both environmentally sustainable and energy efficient.
Armand's growing season begins in December when the one foot tall pepper plants arrives at about 6-8 weeks old. The plants are grown hydroponically, and are watered through a pump set, which generates heat, and produces carbon dioxide to feed the plants. It takes them two months to go from flower to pepper. The peppers are trained to grow on three unique stems and every stem is expected to produce 30 peppers.
All in all, Bakerview Greenhouses produces 1.2 million kilograms of peppers a year! Big plans are around the corner for Armand as he is planning on expanding this year. He hopes to be in production with another 10-15 acres of peppers in the spring of 2019.

LOCATION
Abbotsford, BC
35
11
Peppers - Green, Peppers - Red
"We buy local to strengthen regional economies, support family farms, preserve the local landscape, and provide delicious fresh-from-the-farm foods for our customers"