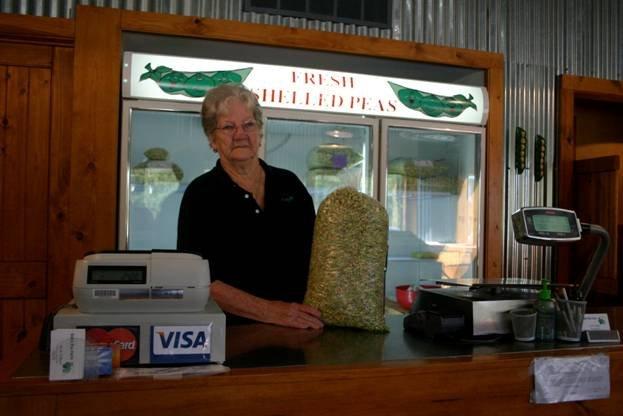 Sides Pea Farm began in 1957 when Winford and Virginia Sides bought 70 acres just south of Canton and began farming. When Winford began farming, he tried growing many varieties of fruits and vegetables: squash, tomatoes, potatoes, okra, watermelons, cantaloupes, peas, and beans. Winford soon realized he was much better at raising peas and beans than anything else, so he decided to focus strictly on peas and beans and soon became the largest grower of fresh market peas in the state of Texas.
Winford did all the farming and Virginia did the selling. She sold them at the farm and at surrounding farmers markets. Since 1957, Sides Pea Farm has grown larger every year and now has several hundred acres of peas. You can find Sides Pea Farm fresh peas at numerous fruit stands, markets, and stores all across Texas, Oklahoma, Arkansas, and Louisiana. Over the years, the farm and its marketing have changed. The Sides no longer sell at the Dallas market. In fact, most of their previous Dallas customers now come visit them at their local market.
And while customer demands have changed throughout the year, the farm has kept a steady stream of business. "My grandson is with me in the business and my husband has retired," she said. "He was the one that raised all the peas. I mean, back when he was farming, we raised many a pea." Sides Farms delivers to customers three times a week. They go to Dallas, Huntsville, Houston, Hempstead, Bryan, Austin, San Antonio and back three times a week. Virginia hopes that eventually her grandson will pick up where she leaves off, and continue the family tradition of growing the "perfect pea." Fresh Point is proud to support Sides Pea Farm and wish them another 50 years of success.

LOCATION
Canton, TX
500
Conventional
Field Grown
Beans, Okra, Peas
"I tell people our peas are perfect. We do a good job cleaning the peas and they are always perfect. That is the only reason my business is the way it is. I wouldn't let anything go out that door that I wouldn't buy myself."