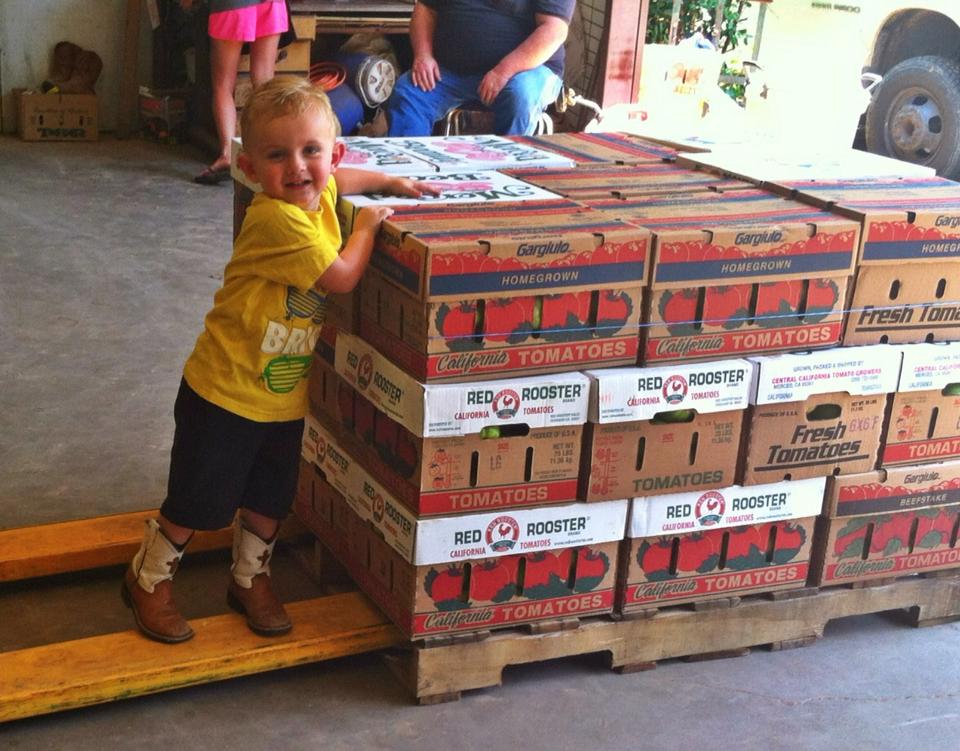 Stacey and Gary Saxon operate Saxon Farms close to the East Texas town of Ben Wheeler. A worn sign staked next to their packing shed states simply "Home Grown Tomatoes." The Saxon Brothers are rumored to have the best tomatoes in this part of the country. Inside the packing shed 20 people are busy filling orders for shipments of tomatoes going out to eager retailers.
Saxon Farms has been a business run by family for close to 60 years. Started by E.L. and Mary Jane Saxon in 1950, now continued by Stacey and his brother Gary, Saxon Farms has grown from humble origins to one of the largest tomato operations in East Texas. Saxon Farms plants over 300,000 tomato plants each year yielding over 700 cases of vine ripe tomatoes each day during the months of June-August. Their tomatoes are known throughout East Texas and beyond for being large and meaty, and having that bold vine-ripened tomato taste.
As for running the business, Gary is in charge of field operations and running the packing shed. Brother Stacey handles the marketing and customer relations, shipping tomatoes throughout the state and even across state lines.
Saxon Farms is an East Texas institution operating for over 60 years. The brother's parents, E.L. and Mary Jane are still active in the operation making, sure that all picking, sorting and grading are still done to their high standards.

LOCATION
Ben Wheeler, TX
50
Conventional
Field Grown
Tomatoes
"The deep sandy soils here close to Ben Wheeler and by allowing our tomatoes ripen on the vine make a big difference in the way our tomatoes taste."