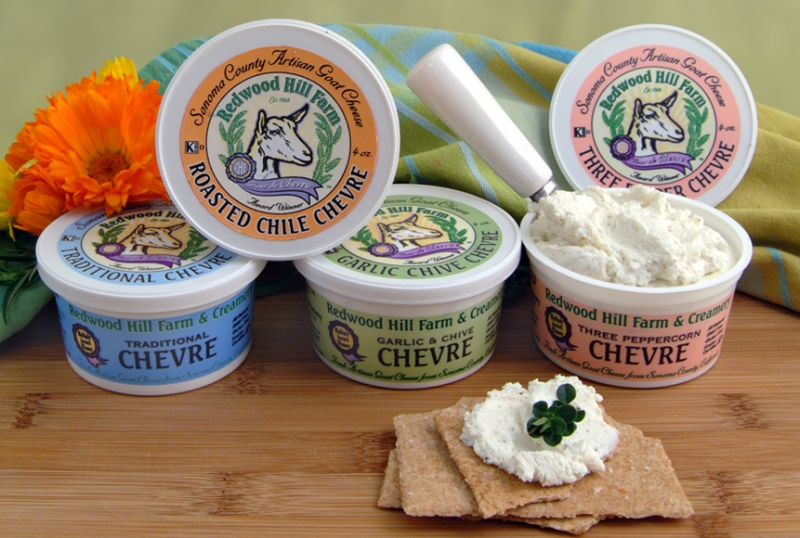 Located in western Sonoma County, California, Redwood Hill Farm is a small family owned organic goat farm and creamery. Since 1968, Jennifer Lynn Bice's parents have been producing delicious, award-winning goat milk dairy products.
It wasn't until 1978, when Jennifer took over the farm with her late husband Steven Schack, that they expanded the farm's business to produce a greater variety of goat milk products.
Jennifer's work has positioned Redwood Hill Farm at the forefront of the goat dairy industry by promoting the benefits of goat milk products and developing a genetics program of excellence. An example of this excellence is that they were the first goat dairy to by Certified Human. Today the herd, which consists of over 300 goats, is exhibited at major shows, holding National Champions in four of the five breeds.
Redwood Hill Farm is a proud producer of goats milk, artisan cheeses, yogurt, and kefer, all of which are free of any sugar, coloring, preservatives, stabilizers or powdered milk.

LOCATION
Sebastopol, CA
Conventional
Field Grown
Cheese, Dairy - Yogurt
"We buy local to strengthen regional economies, support family farms, preserve the local landscape, and provide delicious fresh-from-the-farm foods for our customers."