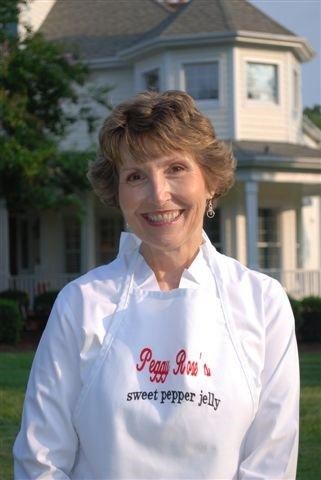 Peggy Rose grew up on a modest farm south of Raleigh. She went to East Carolina University, and worked for her entire career as a first grade teacher at Ravenscroft School in Raleigh. Every year around the holidays, Peggy gave gifts to the parents of her students. She believed that gifts from the heart were the most meaningful, so she would make batches of her family's pepper jelly recipe. She made a green and a red pepper jelly to correspond with the colors of the holidays.
After several years of gift giving, those who tasted Peggy's recipes urged her to share her special jellies with the public. In 1979, Peggy was eager to start a business, but with a son and daughter in high school, she had to put her dreams on hold. Peggy continued teaching and making her jellies for friends and relatives.
In 2009, Peggy's son Jeff left his job in the mortgage business. With some time on his hands, he asked his mom if she had any dreams that weren't fulfilled. She responded, "I want to sell my pepper jelly." With that request, Jeff helped his mom create Peggy Rose's Pepper Jellies and finally fulfill her dream of sharing her renowned recipes with everyone.
Peggy Roses jellies are traditional pepper jelly recipes that use fresh bell peppers as the base. Her artisanal jellies can be used as a marinade, spread, dip, dressing or garnish. But Peggy's favorite way to enjoy her jellies is simply – with cream cheese and crackers – the way her family and friends have always enjoyed it.

LOCATION
Wake Forest, NC
Conventional
Jelly, Mustard
"Our slogan is, "I've gotta have more!" and there's no junk in our jars - no artificial colors or artificial flavors. From our family to your table, Peggy Rose's Pepper Jellies are true NC locally sourced and locally made products!"