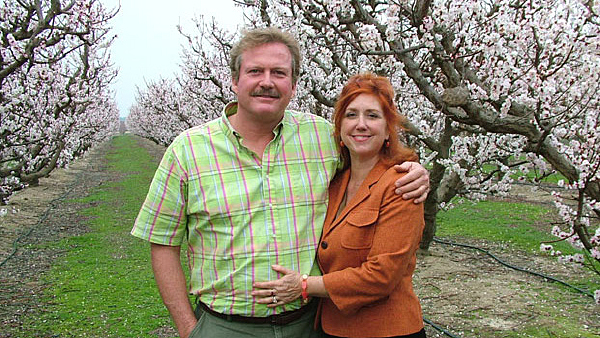 Vickie and Steve Murray farm at the southern-most end of the San Joaquin Valley, nestled against the foot of Bear Mountain.
Four generations of Steve's family were California farmers. He graduated University California Riverside with a degree in plant science, and went to work for Santa Barbara County Agriculture. Then he became a crop consultant, and advised other farmers for 25 years. In 1983, Steve and Vickie married, and bought a home in Bakersfield. Steve gave up consulting to become a beekeeper, and after a successful six years, they sold the bee business and their house, purchased 20 acres with grape vines and a house, and started Murray Family Farm.
Today, the Murrays have 360 acres of permanent crops, and they still live in the house where they raised their children, surrounded by their first Cherry trees.
Murray Family Farm is highly diversified, and Steve Murray is an exceptionally innovative farmer. Their home farm is close to becoming certified organic. Steve says that becoming organic vastly improved the soil, and as a result, the trees, vines and fruit are improved as well. Steve is a voracious reader of farm journals, and they have led him to employ rotating trellises for all the bush berries, and a Japanese espalier method for his fig trees. Always planning five years ahead, and constantly searching for better production methods, Steve Murray is a rare breed.

LOCATION
Bakersfield, CA
360
Field Grown
Organic
Sustainable
Berries, Berries - Blackberries, Berries - Blueberries, Berries - Blueberry, Berries - Blysenberries, Citrus, Figs, Fruit - Subtropicals, Fruits - Assorted, Grapes, Stone Fruit, Stone Fruit - Apricot Blenheim, Stone Fruit - Cherries, Stone Fruit - Pluot Early Dapple
"We are honored to work with such a creative, innovative farmer!"