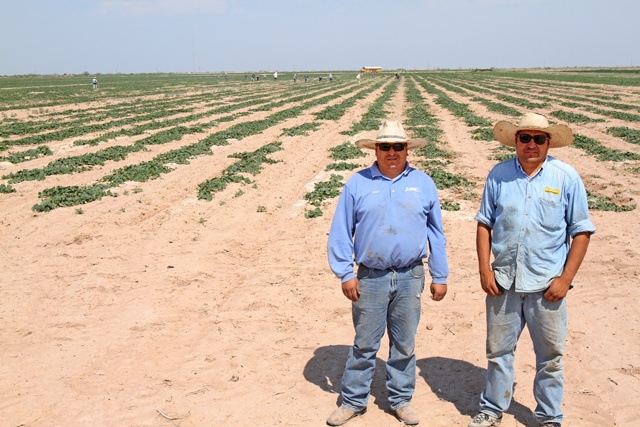 Mandujano Brothers Farms, located in Coyanosa, Texas is most famous for their sweet Pecos Cantaloupes. Beto Mandujano, marketing manager for the four brother partnership, says "Watermelons and cantaloupes grow especially sweet in Pecos County because of the deep sandy-loam soils and arid climate."
Beto and his brothers raise approximately 200 acres of watermelons, 200 acres of cantaloupe, 230 acres of onions and 150 acres of pumpkins and fall squash. Beto, along with his brothers, attended San Angelo State University in nearby San Angelo. After their college years, each of the brothers chose to come back to the family farm which was bought by their father in the 1970's after working on the land for many years. Their father still operates the family fruit stand, on the highway close to their home. Along with their vegetable operation, the Mandujano Brothers also farm 2,000 acres of cotton and about 1,000 acres of alfalfa hay.
All crops in the Pecos area must be irrigated and the most efficient method of watering vegetable crops is drip irrigation. This is in line with their other soil conservation measures such as minimum tillage or no-till planting methods and a minimalistic use of pesticides which helps protect the environment. Beto and his brothers have invested in new, efficient harvesting equipment to allow them to harvest on a regular basis at the lowest possible labor cost. They also try to hedge their cost by pre-ordering their largest input costs such as electricity, fuel, and fertilizer. Two years ago they added a large cold room to pre-cool each box or bin of melons before they are shipped, thus adding days to the shelf life.

LOCATION
Coyanosa, TX
4000
Melons - Cantaloupe, Melons - Watermelon, Onions, Peppers, Squash - Pumpkins, Squash - Winter
"I attribute our success to our Pecos sandy soil, available water, good management tools, which have been developed over the years, and good teamwork between my brothers and me."