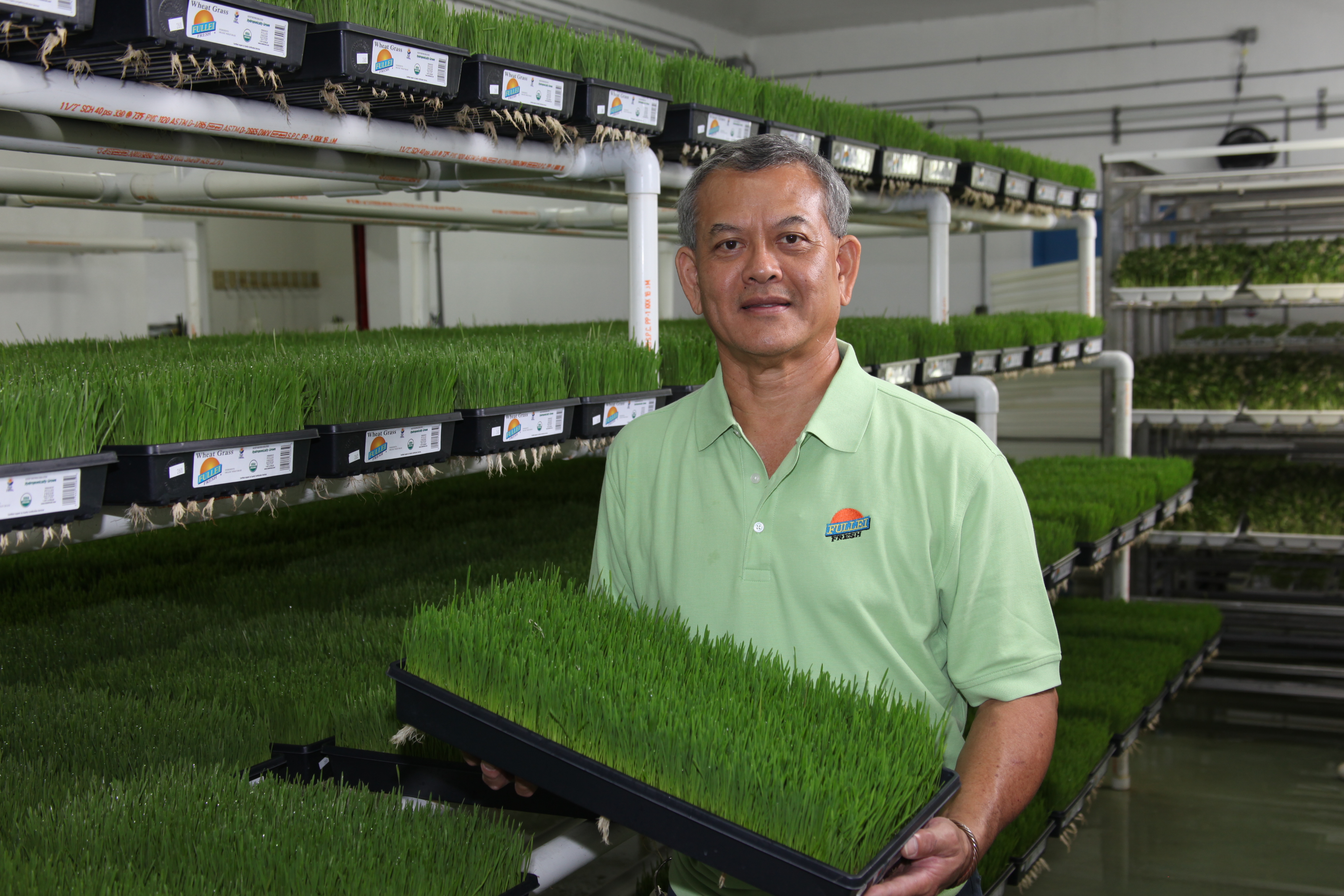 Miami is known for its multi-cultural, multi-ethnic cosmopolitan environment, where residents and tourists can feast on a variety of healthful foods. So it is not surprising that Manny Wong and his family decided to start a sprouts business here, back in 1978, after seeing the need for a commercial sprouter. What may be surprising, is that their sprouts, including wheatgrass, are grown inside a warehouse, hydroponically, without the use of soil or medium, and under artificial lights.
Manny is a second-generation sprout grower, as both his father and father-in-law had started their businesses servicing the Asian bean sprout clientele. The main difference is that Manny Wong has continued growing bean sprouts, and expanded to growing over a dozen varieties of sprouts: organic alfalfa/clover, broccoli, and clover sprouts, as well as wheatgrass, plus many other non-organic sprouts.
Manny Wong is considered a pioneer in the sprouting industry, educating consumers and working with various agencies to set the standard for sprouts safety. Fullei Fresh has a state-of-the-art growing and processing facility, and sprouts are shipped daily to distributors locally as well as throughout the state. The latest accomplishment for Fullei Fresh is an in-house lab to ensure food safety as set forth by FDA. The mission at Fullei Fresh is to provide customers with the highest quality products and the best service possible. Manny Wong is happy to be in the food industry, helping to promote consumer awareness of empowering, nutritious, and natural foods, especially sprouts!

LOCATION
Miami, FL
12000
Conventional
Hydroponic
Organic
Sprouts, Sprouts - Alfalfa/Clover Organic, Sprouts - Broccoli Organic, Sprouts - Clover Organic, Sprouts - Wheatgrass Organic
"Sprouts are great! Try them all and see which ones are your favorites!"