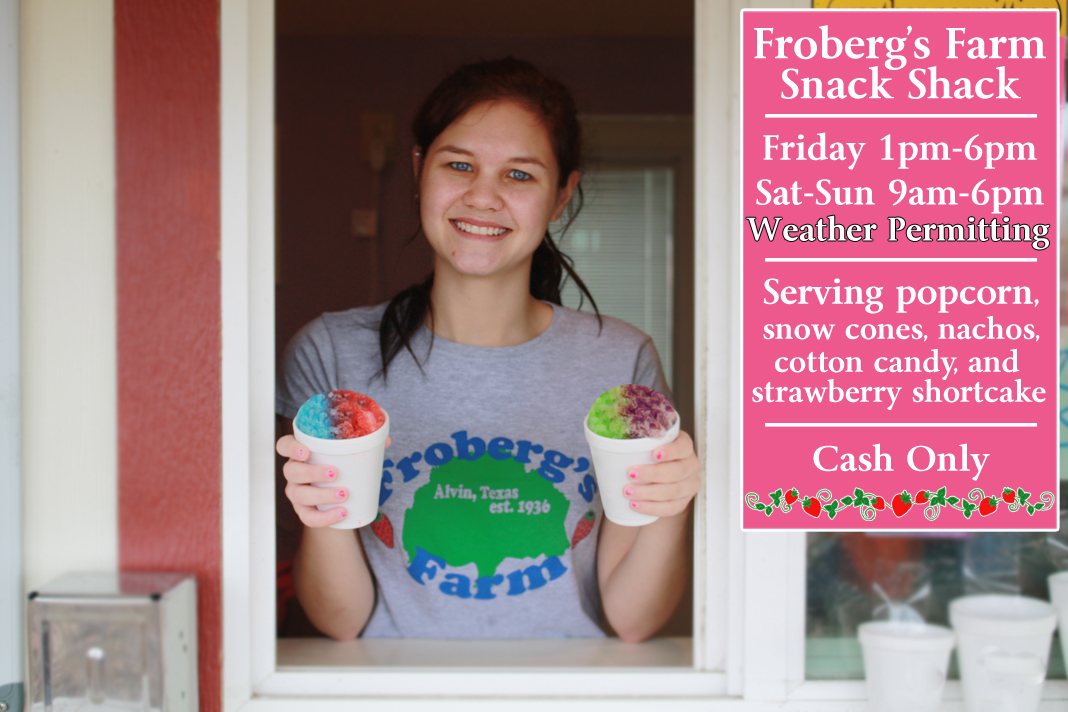 Froberg's Farms, located in Alvin, Texas has been in the produce business since 1936. Specializing in strawberries, the farm now grows 30 different fruits and vegetables throughout the year. Strawberry picking begins in early March and lasts till mid-May. Alfred Froberg, a third generation Froberg, and his wife Nina now operate the family farm just south of Houston. For decades people have been coming to Froberg's to pick fresh strawberries and to enjoy Froberg's Farms country store, which sells a variety of homegrown produce items year round.
Homemade strawberry fried pies and other bakery goods are made fresh by Nina and staff daily. The Froberg family came to the Alvin area in the 1920's and in 1936 Fred and Katie Froberg purchased 21 acres that is the nucleus of Froberg's Farm today. Since then it has been passed down through the years and today Alfred and Nina carry on the Froberg farming tradition. Their children also can be seen on the weekends showing customers around the farm and helping in the store. The Frobergs produce a variety of other fruits and vegetables for farm sales to the public. Some of these are fresh greens, tomatoes, onions, peas, beans, blackberries, broccoli, cabbage, and cauliflower.
You will be able to find Froberg strawberries in local grocery stores and in restaurants around the state during the season (March-May). These are usually the first local strawberries available anywhere in Texas. FreshPoint takes pride in the fact that it can help promote these locally grown specialties as they become available.

LOCATION
Alvin, TX
21
Conventional
Field Grown
Beans, Berries - Blackberries, Berries - Strawberries, Greens - Collard, Greens - Mustard, Onions, Peas, Potatoes
"My grandfather tended this land, my father took care of this land, I currently farm this place, and now my son is helping to carry on the traditions. We do things the very same way we always have."