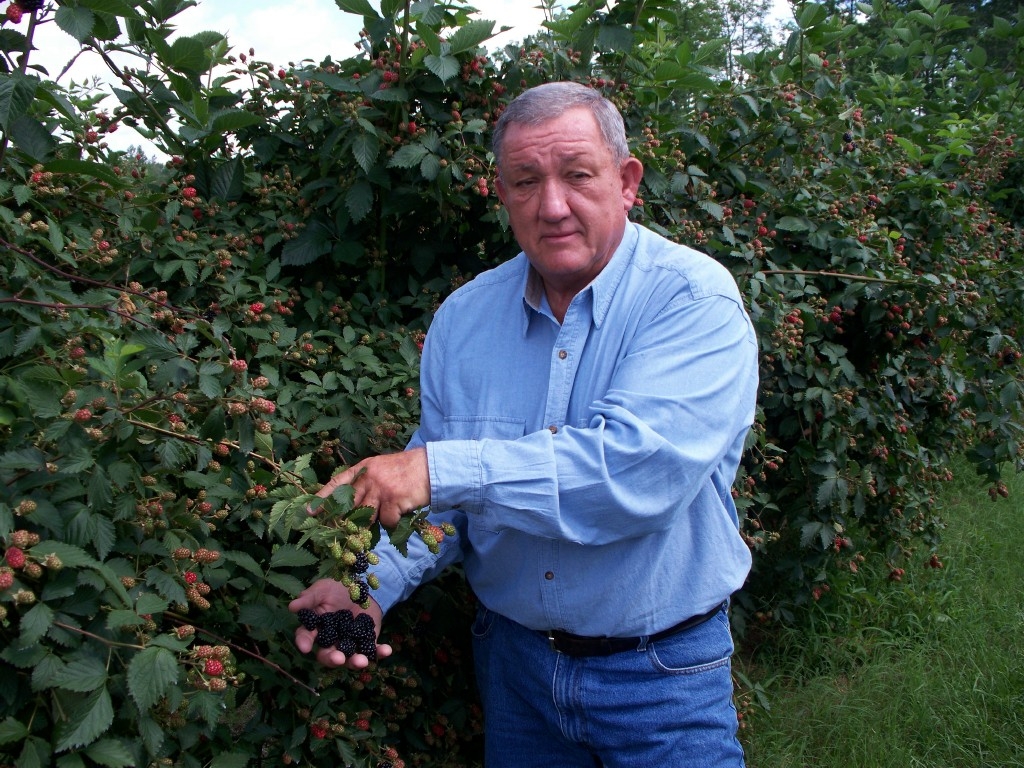 Briar Patch Farms is owned and operated by Jimmy Fruge who has farmed blackberries for 10 years. His 40 acre farm is located in the sandy soils of the Sabine River bottoms. Jimmy has 24 acres of the Ouachita blackberries, chosen because of its uniform large size, sweetness, and firmness. Jimmy graduated from Stephen F. Austin University with degrees in English and Biology. After teaching for several years, he worked in the lumber industry as a timber buyer.
In 2000 he planted his first field of blackberries on a farm he owned near DeBerry and had his first harvest in 2001. "The Ouachita blackberry really seems to like the soils and climate here in the Sabine River bottoms," explains Fruge, "They have always been a good producer of large, sweet fruit." Jimmy utilizes good water and soil conservation practices in his operation. He uses drip irrigation with water sourced from wells and he also uses these drip lines to apply water soluble fertilizer, a process called Fertigation.
Jimmy practices a minimalistic approach in the use of chemicals and uses mechanical tillage methods under his blackberries for weed control.
A firm believer in the benefits of rapid post-harvest cooling of fruit to prolong shelf life, Jimmy uses a state of the art cooling tunnel which has the ability to pull the temperature of the incoming fruit from 85-90 F. to below 35 F. in 45 minutes. This can double the shelf life of the fruit and firm up the berries for shipment. All of the fruit at Briar Patch Farms is handpicked in clamshells and regularly loaded on carts and taken to the packing shed where it is pre-cooled before shipment. Jimmy Fruge has a real passion for growing fruits and vegetables. He has a small planting of peaches and plums and a variety of vegetables, which he sells locally.

LOCATION
Deberry, TX
40
Conventional
Field Grown
Berries - Blackberries, Stone Fruit - Peaches, Stone Fruit - Plums
"We take great pride in producing blackberries here in Texas. The consumer cannot buy a fresher, sweeter, higher quality blackberry than what we can grow right here in our own back yard. Buy American-buy Texas!"